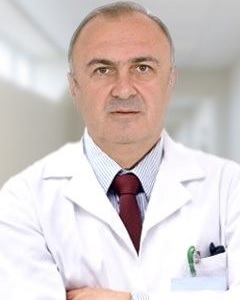 Dr. Paata Abesadze, MD
Senior scientist at Mardaleishvili Research Scientific Centre, Department of Cellular Technologies and Therapy
Education:
1982-1988 — Tbilisi Medical State University
1991-1998 — Practice at the Department of Pediatric Neurological Pathologies at the University of Tbilisi as a leading specialist
1996-1997 — obtained a graduate certificate at the Goethe Institute, Tbilisi
1997-1999 — graduate of the Jefferson Institute of Ultrasound Imaging
A doctor is required to constantly improve their knowledge and skills. A doctor's education never ends, and today he is advancing his skills in practical therapy and scientific activities.
Work experience:
1993-2000 — Zhvania Pediatric Hospital, pediatric neurologist, senior resident
2006 — obtained a doctorate degree, Department of Science and Education
2007 — obtained a state certificate of laboratory medicine
2008-2012 — a doctor specializing in the treatment of rare pathologies in Georgia
2010-present — Doctor and Senior Researcher at the Department of Cellular Technologies and Therapy, Mardaleishvili Research Scientific Centre
Paata Abesadze is a leading specialist at the centre with vast experience. He is actively involved in the use of innovative methods of treatment and today successfully applies the method of cell therapy for the treatment of such diseases as optic nerve atrophy, nystagmus, amblyopia, and retinal pigment epithelium dystrophy. It is a real success for the patient to be in the hands of a specialist at this level.
The very method of treating ophthalmic diseases with stem cells is quite promising since it achieves an excellent therapeutic effect.
It is noteworthy that stem cells began to be used for the treatment of eye diseases relatively recently but have already made a real impact since they allow for the possibility of restoring vision qualitatively and thoroughly without open surgery or laser intervention. Moreover, it has practically no contraindications and does not cause side effects.
Membership, scientific activity, awards:
2002-2005 — Member of the Bioethics Union of the National Department of Labour, Social Protection, and Health
2002 — an honorary medal and a diploma from the World Health Organization
2008-present — member of the Research Committee at Tbilisi University in the field of biomedical ethics
2014-present — member of the Union of Transplantology of Georgia; member of the Organization of Children's Neurology in Europe
Membership helps to keep him abreast of the latest innovations in medicine, share his experience with colleagues, and make a significant contribution to the development of both scientific and practical medicine.
Participation in international scientific conferences:
1997 — World Immunological Congress, Israel
2001 — European conference dedicated to stem therapy as a treatment of the future, Belgium
2007 — Scientific and Practical International Conference, Türkiye
2009 — International Neurological Conference, Türkiye
2011 — Representative from the European Federation at the conference on tissue compatibility and immunogenetics, Armenia
2011 — Third World Cord Blood Congress, Italy
2012 — International Medical Conference, Türkiye
2014 — Conference of world specialists and scientists in the field of child neurology, Türkiye
2016 — European World Cord Blood Congress, Great Britain
2017 — Congress on regenerative medicine and bone marrow stem cell therapy, USA
2017 — National Georgian 9th Congress on allergic reactions and immunology
Paata Abesadze is an honorary delegate and speaker at many conferences. Congresses and other formats of specialized meetings of doctors and scientists contribute to the improvement of applied therapeutic methods, the exchange of practical experience, and the overall development of medicine.
Scientific publications:
1996 — Gilles de la Tourette syndrome and its treatment in childhood
1999 — Absence epilepsy and its diagnosis in children
2003 — Fundamental features of pediatric neurology
2005 — The use of Depakine in childhood in the treatment of tics
2011 — The role of gamalate B6 in the regulation of sleep disorders in children
2012 — West syndrome in childhood
2018 — Correction of childhood autism and cerebral palsy with stem cells
Paata Abesadze is a well-known scientist in his field, whose research activities are mainly focused on stem therapy, its popularization as a method, and improving the technology of stem cell sampling and transplantation. His deep knowledge in this area is the key to successful therapy for the patient.